Kaelaris im Interview
Am letzten Wochenende fand die IEM in Köln statt, bei der es letztlich Team Liquids HerO gelang, Polt im Finale zu schlagen und die 10.000,- US-Dollar Preisgeld einzuheimsen. Die Redaktion von MyStarCraft war am Samstag anwesend, um sich selber ein Bild von dem Event zu machen. Dabei kam es zu einem interessanten Gespräch mit Kaelaris, der sich auch bereiterklärte mit uns ein Interview zu führen. Und das obwohl gerade MaNa und Jaedong um den Einzug in die Playoffs spielten!
Thanks Kaelaris for taking some time for this interview. How are you?
Not too bad, not too bad. It's especially good to see a tournament that has been so stacked. This being the third day and this day the games have been better than any other day and we're still in group stage, though.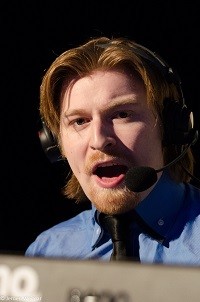 James 'Kaelaris' Carrol
Foto: Jeroen Weimar
So you're enjoying yourself on the IEM: Cologne so far?
Oh yes, definitely. I mean I'm enjoying myself on almost every IEM like the previous couple New York, Singapore and Brazil. I like to go a little bit out as well after the tournament which I've done a bit more. Normally I'm very introvert and I'm just staying around making my notes some more and kind of experiencing the places as well. But at the same time it's nice to have an IEM in my hometown, in Cologne. I live over 5 kilometres away and it's nice to sleep in my own bed. It's been really comfortable so far.
Which match would you consider to be the best as yet?
If I had to pick a single game it would be the first one today, the Polt versus StarDust one. And also actually we just had one that was nice between Jaedong and StarDust. Habitation Station went really crazy with a wall-in. It's times like that one when you are a caster where you see a game that is a little bit unconventional, a little bit wacky, you really can kind of get abducted. Especially when its very close. It does not have to be the most spectacular of play known to man. It hasn't to be the tiptop-players. Of course these guys are very good but, you know, a few mistakes here and there in that game [do not matter]. As long as it's close, a game can be extremely intense and capturing to watch.
Absolutely. We've just seen Mana beating Jaedong surprisingly. Do you think HeroMarine has a chance? After all, Cologne is his hometown, people are cheering for him and I saw some guys wearing T-shirts with his face on it.
I saw that. *laughs* It's always gonna be weird. Despite taking that EPS-championship, that I had the privilege of casting and watching – that was a lot of fun – it really depends. Shaun mentioned previously in the broadcast today, the interesting thing is that he has to go up against Innovation first of all he could go up against. Innovation on your first IEM is awfully crazy.
"HeRoMaRinE's got a great career ahead of him."
I said on the first day: maybe. His Terran versus Terran is very good. I watched his stream often. He has been close a friend for a while since I was on mousesports all the way back. And I did some of my first shows or his first shows at least [where] we had him on talking about the game although his English was not so amazing. But he's flourished. He's become such an impressive player. Such good potential lies within him to move on even further. I think he might get slapped around in this group, [but] I'm holding my breath for that, I hope he doesn't. He's got a great career ahead of him.
There has been much talk about the game's balance currently. There is much confusion going on, with nearly monthly or weekly new upcoming ideas how the balance of the game could be improved. What are your thoughts on this?
In regard to a specific unit or the game overall?
Let's focus on the increase of the Blink ability's cooldown of the stalkers.
Well, the change itself, I say this from the perspective of a caster, doesn't feel too good for game. The cooldown change is very, very much too severe. Blink is a very cool ability you can do a lot of micro usage with. In the end, maybe it's a too drastical change to deal with the Blink-all-ins versus Terran, obviously.
"Blizzard know what they are doing [...] and in the end, I have faith in Mr Kim."
Sonic had a cool idea changing something about the bunker for example. And my idea from that is to change the Neosteel-upgrade for Bunkers maybe, which you never see in games. It wouldn't be too much of a drastic change. Something of the former upgrade has to be changed to help support. Maybe if you got – this is completely theorising – Neosteel-upgrade, they took one less damage from ranged units, for example. Something not huge, just experiment with that upgrade which you don't see anyway. It would be cool but I mean Blizzard know what they are doing. I talked to David Kim, he's a very intelligent guy, who likes to take it small, step by step. And in the end, I have faith in Mr Kim.
Mr Kim is someone who is frequently flamed by the community. He has to satisfy this whole community and that seems to be a job which can never be done.
He's got the hardest job in the world. *laughs* You have to balance a game that has three completely asymmetric races. But looking at a game like this, it is still to this extent balanced. It's a miracle itself. We're complaining about minor details that eventually will get looked up and pushed on forward.
The unit that is probably criticised the most is the Swarmhost. What are your thoughts on this unit?
I think, overall, the Swarmhost is a bit of an interesting case study, in terms of how they introduced it into Heart of the Swarm. I think it was bold of them after Wings of Liberty to say: "We're gonna try this 'ground-Broodlord'". It is an interesting interpretation on it because Broodlords were with the Infestors a little bit of an issue to Blizzard. The Swarmhost in itself is not the most exciting of units.
"The Swarmhost in itself is not the most exciting of units."
Nobody is looking at Swarmhosts saying "Oh, boy, I can't wait to see him making little Swarmhosts". I would like to see [it] as a general, overall-arching philosophy unit that makes a game faster, a game more harassment-based, more mirco-intensive. And I think the Swarmhost goes straight forward to that design philosophy. So, I' enjoy seeing it from time to time. Sometimes when you are casting it for 2 hours, it can get a little bit frustrating...
Yeah, like every Stephano-match currently...
Yes, but overall I feel that Blizzard are clever guys. I still have faith in them that they push it in the right direction.
Do you have any wishes for Legacy of the Void yet?
Wishes for Legacy of the Void... I haven't really thought about it too much. I don't have the time to think about it, so busy casting and playing. It's not only StarCraft playing, I mean I just play all games in general. I'm wearing a Resident Evil-hoodie right now.
Yeah, I recognized that. Very cool! When it was published in Germany, I think it was in 1998, I was very young and too scared to play it until the end.
Back then, did they have the German-like-gore-censorship thing?
Yes, but I think Resident Evil 1 was not censored (Actually, it was. editor's note). However, if I'm not mistaken Resident Evil 2 was banned and blood was green in the German version.
Oh, yeah, ok! *laughs* Again, what was the question? *laughs again*
Wishes for Legacy of the Void!
Jeez, Legacy of the Void, that's an interesting one, it really is. I don't know for certain in my mind which unit I would consider for this. For I would like to see Blizzard overall evaluate the decisions that they took during the first two games. Maybe even remove one or two units. I don't think people would enjoy the Swarmhost again, so maybe that could go. But this is the great thing about the three part system. When Legacy of the Void comes out, the Swarm Host could just stay around in the Singleplayer. When it comes to Multiplayer they have the opportunity to make swings and changes. So maybe we'll see, I don't know, Dark Archons. There we go, Dark Archon! I like Dark Archon! I know that I'm just pulling things out of StarCraft I and say, "yeah, that was really cool."
I think the Lurker is missing. This unit was just too cool.
The lurker? They have to do something different. It's very difficult to say. I need a lot more time to think about that, that's a very tough one, sorry.
Thanks for the interview. Do you have any final thoughts you want to share with our community?
Thanks to the ESL for giving me the opportunity to lead this lifestyle I do. Thanks to my family, my mum, she loves everything that I do, and also my dad cause he's got jealous of me shouting out my mum all the time... not. *laughs* Oh and thanks to my brother, who wanted this hoodie as well, and then told me hinted that he wants it.
---